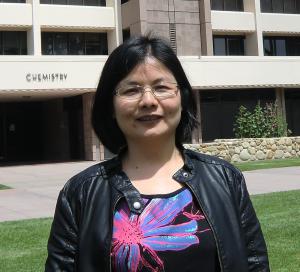 Associate Professor
Visiting Researcher
Specialization
:
Organic Electrochemistry
Organocatalysis
Education
:
2014/3–present

Visiting scholar in the Little group

2000/3–2003/3

Ph. D. in Chemistry (Major in Organic Catalysis), Zhejiang University, Hangzhou, Supervised by Prof. Xiaoming Zheng and Prof. Hui Lou

The dissertation: Synthesis and Immobilization of Pyridinium Salts and their Catalytic Activities Researches

1998/9–2000/3

M. S. in Physical Chemistry, Zhejiang University, Hangzhou

1994/9–1998/7

B. S. in Chemistry Education, Zhejiang Normal University, Jinhua
Publications
:
1. Chen Qiong, Zhu Yinghong, Zhu Ying, Li Yanfang, Ma Chunan, Effect of Imidazole Ionic Liquids on the Electro-oxidation of p-Methoxy Toluene, Electrochem. (China) (In press).
2. Zhu Yinghong, LU Zai-xiang, CHEN Qiong, MA Chun-an, Direct electro-oxidation of toluene derivatives on graphite electrode, Chem. J. of Chin. Univ., 2013, 34(9): 2210.
3. Zhu Yinghong, ZENG Hong-Yan, LI Shan-Shan, LU Zai-Xiang, MA Chun-An,Electrochemical Oxidation of p-Methoxy Toluene in BMIMBF4 Ionic Liquid, Acta Phys. Chim. Sin.
4. Xin Li, Zhu Yinghong, Jun Ling, Zhiquan Shen, Direct Cyclodextrin-Mediated Ring Opening Polymerization of epsilon-Caprolactone in the Presence of Yttrium Trisphenolate Catalyst, Macromolecular Rapid Communications, 2012,33(11): 1008.
5. Wu Lingling, Zhu Yinghong, Li Shanshan, Zeng Hongyan, Ma Chun'an,Study on the direct electro-oxidation of anisaldehyde, Electrochem.(China) , 2011,17(2): 1.
6. Ma Chun'an, Liao Yanmei, Zhu Yinghong, Wu Lingling, Selective Electro-oxidation of Benzyl alcohol on Ni-Cu alloy electrodes,CIESC Journal, 2011, 62(1): 142.
7. Ma Chunan, Liao Yanmei, Zhu Yinghong, Wu Lingling, Selective Electro-oxidation of Benzyl Alcohol in Alkaline Solution, Acta Chim. Sin., 2010, 68(16): 1649;
8. Zhu Yinghong, Xu Ying-Hua, Ma Hao, Zhao Feng-Ming, Ma Chun-An, Selective dehalogenation of 2,4,6-tribromophenol in aqueous solution on silver cathode, Acta Phys. Chim. Sin., 2009, 25(6): 1190.
9. Ma chun'an, Huang Yun, Zhu Yinghong?Chen Zhaoyang, Lin Wenfeng, Preparation and characterization of Pt/WC catalyst for oxygen reduction at gas-diffusion electrode, CIESC Journal, 2009, 60(10): 2633.
10. Xu Yinghua, Zhu Yinghong et al.?Electrocatalytic reductive dehalogenation of plyhalogenated phenols in aqueous solution on Ag electrodes, Applied Catalysis A: General, 2007, 324: 83.